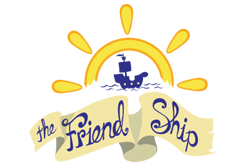 Nothing sticks like a song!
Any parent knows how it is—once your child discovers music that they like, and the CD ends up in your car, you're stuck with it. You both memorize it.
The Friend Ship is an album specially crafted to be as enjoyable and useful as possible for parents and children alike. Short, up-beat songs that vary in genre from rock to reggae and hip-hop, focus on core principles that support peer interactions and communication.
The language of the songs is simple and direct so that young children can understand and relate to messages about being friendly, taking turns, taking control of their emotions, joining in to play with peers and more. The lyrics also provide target vocabulary for parents who struggle to find the right words to impart these concepts. The songs' memorable language helps parents or teachers reflect on the message and quote familiar lyrics when kids need a reminder.
Each song is derived from therapeutic techniques to help kids with a range of social communication needs to become more thoughtful, understanding, and emotionally aware individuals. In addition to being a handy asset for parents, the Friend Ship is a fun tool for any preschool classroom or daycare.
In fact, the album is accompanied by two sets of strategies, one for parents and one for educators. These suggestions and ideas are there to help adults integrate the songs into the daily routine and achieve maximum resonance with kids. Of course the CD is great on it's own, but even better with the booklet!
Click for buying options...